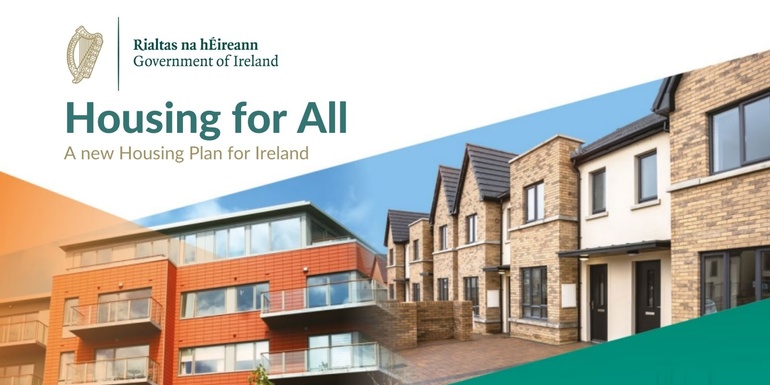 The Housing Agency welcomes the launch by the Government of Housing for All, a new Housing Plan for Ireland.
The plan outlines a commitment to growing housing supply in Ireland to an average of 33,000 homes per year, including a mix of social and affordable homes, cost rental and private purchase and rental.
Commenting on the plan, John O'Connor, Chief Executive Officer of The Housing Agency, said:
"The Housing Agency welcomes the range of measures and goals announced today. Housing for All represents the Government's commitment to sustainable and long-term planning and investment in our housing system. It is critical that we increase our housing supply to at least 33,000 homes per annum.
"The Housing Agency's vision is to promote sustainable homes and communities. We are pleased to see that sustainability underpins the Housing for All Plan, highlighting the need for highly connected, good quality homes in sustainable communities in our cities, towns and villages. Bringing vacant properties back into use – particularly in town centres – is key to achieving this. The Housing Agency looks forward to providing central advisory services to local authorities on this initiative.
"The Housing Agency welcomes the opportunity to support the Department of Housing and the Government in managing the new Croí Cónaithe (Cities) fund which will activate the higher density developments in our cities and urban areas. To meet our housing supply requirements, we must deliver on the planning permissions for residential developments that are already in place.
"In recent years The Housing Agency's role in housing policy, support and delivery has expanded, and now we stand ready to assist in the delivery of the key aims of Housing for All. The Plan sets out to provide 54,000 affordable homes between now and 2030. The Affordable Housing Unit, established last year within the Agency, will continue its role in supporting the delivery of Cost Rental homes, and providing its expertise in the roll out of the Affordable Purchase Schemes."
Mr O'Connor added: "Further knowledge across our teams in areas including Mortgage to Rent, social housing projects and procurement, housing for older people and the updated 'Part V' legal provisions for social and affordable homes will also contribute significantly to the Agency's role in working to achieve many of the aims set out in this strategy."
Visit the Housing for All website