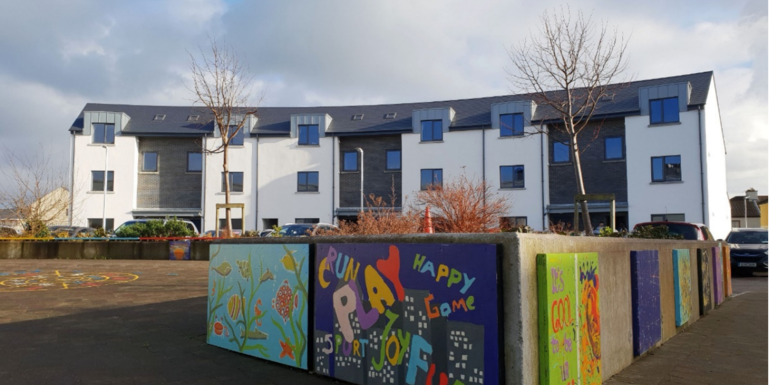 The Housing Agency in conjunction with Kerry County Council has won the ULI CBRE Munster Private / Private sector award for placemaking for the Tralee regeneration project.
In 2004, Tralee Town Council identified the Mitchels / Boherbee area of the town as being in need of major regeneration in order to deal with the underlying physical, economic and social problems that affected the area. This major ongoing transformative regeneration project defines a standard for best practice in regeneration and placemaking.
The regeneration project has delivered a suite of community, social and residential solutions, through new build, conservation and refurbishment, energy upgrades and public realm works, all of which have resulted in creating a safe, attractive, environment. Public realm improvements and the provision of allotments have enhanced community solidarity and engagement. A geodesic dome within the allotment area provides a focus for community activity.
The refurbishment of Moyderwell Convent as a Day Care Centre and apartments for older people and the accompanying sheltered housing complex of 56 apartments has ensured a long-term sustainable use of this historic protected structure, has placed older people at the heart of the community and significantly enhanced the public realm.
One of the older residents, when interviewed, noted - "the design is brilliant, it has a continental feel. The restoration work is excellent…having good benches and a garden to walk in is important."
The replacement of the existing convent walls with railings has opened up the convent and its gardens to the wider community. The development of Áras an Phobal, the Integrated Services Building, provides a community and service resource for the wider population and has helped in transforming the image of the area.
Social and voluntary housing projects, including the provision Traveller accommodation, and associated public realm works including a children's playground, are delivering high-quality residential solutions that help to bring the community together, in an urban environment. Energy upgrades and a sustainable wood chip district heating system have significantly impacted on fuel poverty and environmental sustainability in the area.