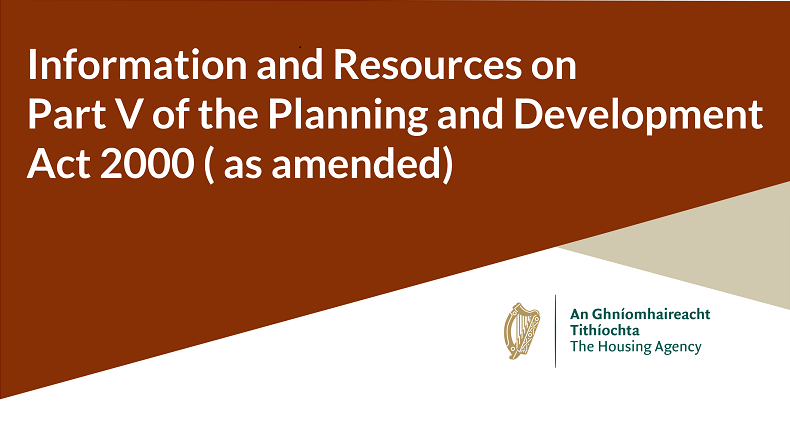 Part V refers to Part V of the Planning and Development Acts 2000 to 2021. The purpose of Part V is for the State to capture a portion of the increase in land value resulting from the granting of planning permission for residential development. The current Part V legislation provides for local authorities to acquire 20% of this land at existing use value and to utilise this land to deliver homes to those households who qualify for social and affordable housing support. The use of the land for the delivery of social, affordable purchase and cost rental housing satisfies a policy objective of encouraging integrated development and reducing housing segregation.
The Housing Agency and the Department of Housing, Local Government and Heritage, have developed information and resources on Part V of the Planning and Development Acts 2000 – 2021, which are available to the wider housing sector.
Video Resources
Written Resources
In 2017, guidelines on Part V were issued by the Minister for Housing, Planning, Community and Local Government under section 28 of the Planning and Development Act 2000. These guidelines deal with specific issues, largely in relation to the making of a Part V agreement and covers topics including the options for agreement, net monetary value, compensation paid for land and construction costs.
Download Part V 2017 Ministerial Guidelines
The Part V Resource Pack is a step-by-step guide to making a Part V agreement covering areas including exemptions, requirements for planning applications and documentation to be provided by both sides to assist in negotiations. This third edition has been updated to include all changes to Part V prior to the Affordable Housing Act 2021. A revised fourth edition incorporating the recent legislative changes will be issued shortly.
Download Part V Resource 3rd Edition

Where a local authority and an applicant for planning agree to satisfy Part V through the transfer of homes onsite, the proportion of the "planning gain" or net monetary value achieved through the transfer of those homes must be calculated and it must be determined whether a balancing payment or balancing discount is required to fully satisfy the Part V requirement. For mixed developments of houses and apartments, these calculations can be complex. The Housing Agency has prepared five worked examples of these calculations.
Download Part V calculation examples for houses and apartments
Changes to Part V under the Affordable Housing Act 2021
The Affordable Housing Act 2021 made a number of changes to Part V. These changes came into operation on 3 September and are summarised in two infographics, one for the wider sector and one specifically for local authorities which covers the changes to housing strategies:
Download The Housing Agency infographic on changes to Part V.
Download The Housing Agency infographic for Local Authorities on changes to Part V.
Transition Arrangements
Those involved in purchasing land for residential development should be aware of changes to the Part V requirement for social and affordable housing:
Land purchased on or after 1 August 2021 will be subject to a 20% Part V requirement on planning permission granted after 3 September 2021. This is for the provision of social and affordable housing.
Purchasers are advised to take this increased Part V obligation into account in relation to the price paid for residential development land.
Different Part V requirements apply to land where planning permission was granted before 3 September 2021 and to land purchased before 1 August 2021, depending on the date of purchase: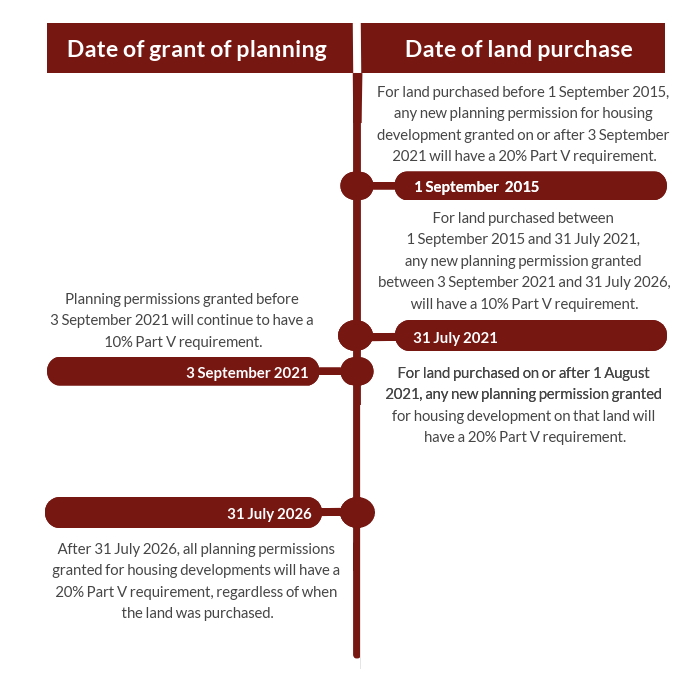 Applicants for planning permission for smaller residential developments can continue to apply for an exemption certificate from Part V which will be available to developments of 4 houses or less.
Frequently asked questions about the changes to Part V
The Housing Agency has prepared a list of the most frequently asked questions in relation to the amendments to Part V under the Affordable Housing Act 2021. A webinar was held in October 2021, outlining the changes for the sector, and answering many of these questions.
You can also download a written version of The Housing Agency FAQs on the changes to Part V.
The revised text of Part V incorporating the amendments made under the Affordable Housing Act 2021 is available on the Law Reform Commission's website.
If you have any specific questions about Part V please contact The Housing Agency.