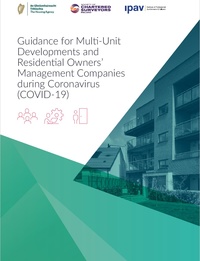 Produced by The Housing Agency, the Society of Chartered Surveyors Ireland and the Institute of Professional Auctioneers & Valuers, this document is intended to provide practical guidance for owners' management companies ("OMCs"), their property management agents, and their directors during the period of the COVID-19 (Coronavirus) pandemic. The material relates to residential OMCs only.
The guidance provided is subject to the continuing public health advice, including the Roadmap for Reopening Society and Business, issued by Government, available at gov.ie. The guidance is subject and secondary to the provisions of law related to residential OMCs, including but not limited to the Multi-Unit Developments Act 2011, and the Companies Act 2014. In the event of any conflict between the content of this guidance and legislation, or public health advice, the legislation and public health advice prevail.

This guide is a live document and may be subject to change from time to time. Compliance with guidance in this document is not the responsibility of the authors. Thanks are due to the Apartment Owners' Network for its observations on a draft of the guidance.
Read Guidance for Multi-Unit Developments and Residential Owners' Management Companies during Coronavirus (COVID-19)
10 Tips for Owners' Management Companies During COVID-19