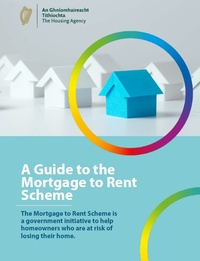 The Mortgage to Rent Scheme is a Government initiative that was set up in 2012 to help people who are finding it extremely difficult to meet mortgage repayments every month to stay in their home.
Under the Mortgage to Rent Scheme, a person will voluntarily surrender ownership of their home to their lender. A third party will then buy the home from the lender. The person will no longer own their home but they will continue to live in it as a tenant, while paying an income--related rent set by their local authority.
This Guide outlines the benefits of the Mortgage to Rent scheme, criteria for qualification, and terms and conditions that apply.