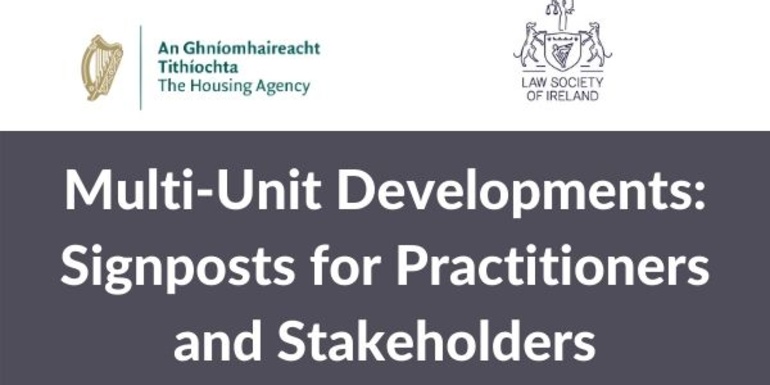 The Law Society of Ireland and The Housing Agency will host a webinar for stakeholders in the multi-unit developments sector.
Presenters and panellists Suzanne Bainton of Liston & Co. and Cómhnall Tuohy of Kane Tuohy Solicitors, will discuss developments in law and practice for multi-unit developments and residential owners' management companies.
The session will be of benefit to practitioners and stakeholders in the multi-unit developments sector.
The one hour webinar will take place at 12pm on Thursday 4 June 2020.
Registration is required to participate in this free webinar. To register please visit https://zoom.us/webinar/register/WN_-JfJomx0Q_KIoPA7S1mO1w.
Places are limited to 500 participants, on a first-come first-served basis.
Attendance carries one hour's CPD for Law Society members.
Webinar Programme
Introduction & background
Panellists' presentations on key legal issues for multi-unit developments, including:

MUD Act – frequently invoked sections
Acquisitions/disposals- Requisition 36 of Society's Requisitions on Title
OMC Constitution – Law Society precedent
Recent caselaw
Debt recovery challenges
Future direction of law for MUDs

Panel discussion and online Q&A.
Please note that the session will be recorded for future use.