A national call to property owners and developers
This information is also available in Irish.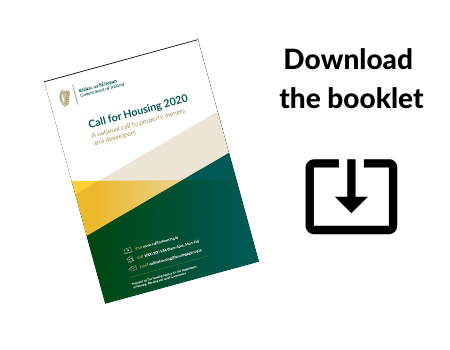 As Ireland continues to face the challenge of COVID-19, we must take measures to protect those in urgent need of a home to keep themselves and their loved ones safe.
Call for Housing 2020 is a new national call for property owners and developers with vacant properties to make them available to others in this time of crisis.
If you have a vacant property, you may be able to provide a home for those most at risk as a result of COVID-19.
To help you do this, there are several schemes that you may be able to avail of: 
 
Purchasing Properties
Social Housing Leasing Scheme

Do you own a vacant property?
• one-bed properties
• larger family homes or
• homes that are or can be adapted for disability or older persons accommodation such as a bungalow or an apartment?

The Social Housing Leasing Scheme provides for a lease with a local authority for an agreed rent based on the market rent with Local Authorities carrying out the day to day maintenance. The property owner has no relationship with the subtenant. 

Phoneline open Monday-Friday, 8am-6pm. | Download the Call for Housing 2020 booklet (PDF).
Partner websites: www.housingagency.ie | www.housing.gov.ie
Call for Housing 2020 is an initiative of The Housing Agency and the Department of Housing, Planning and Local Government.