Current Vacancies
Senior Staff Officer - Grade 6 - PRB - Closing date 4th of January 2024 at 12pm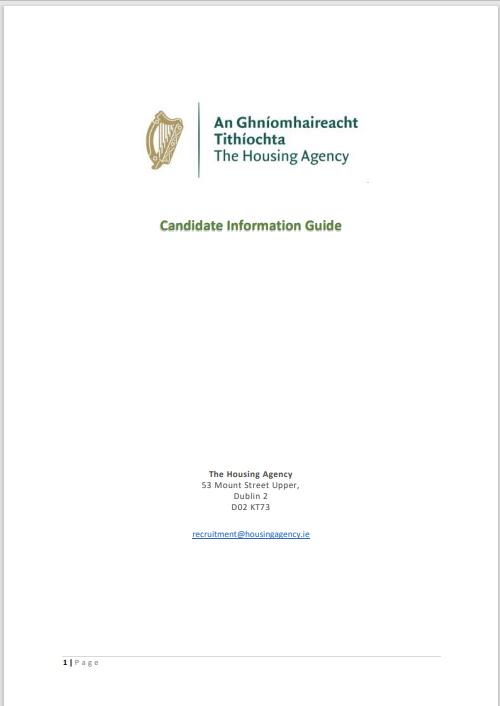 Please see our candidate booklet in Irish here, in English here.
Are you in interested in working in The Housing Agency?
We advertise all our vacancies on this website and through the Public Appointments Service on www.publicjobs.ie. On publicjobs.ie you can register your interest and receive notifications of jobs advertised.
What we offer:
Annual incremental salary progression
Generous annual leave allowance
Hybrid working options
Flexi Time
Work life balance
Convenient location to public transport, (Bus, Dart & Luas)
Continuous development and upskilling opportunities
Access to an Employee Assistance Programme for employees and families
The Housing Agency's Privacy Notice Regarding Job Applications
The Housing Agency's Job Applicant Privacy Notice should be read before submitting an application, as you will be asked to provide your consent to The Housing Agency to process your data in accordance to the details outlined in The Housing Agency Job Applicant Privacy Notice.
In July 2023, The Housing Agency signed the Diversity Charter. By signing Diversity Charter Ireland, we in The Housing Agency are demonstrating our commitment to promoting diversity, equality and inclusion as living values so that we:
a) Attract, recruit and promote talented people who will contribute their best and play their part in promoting a culture where we can bring our diversity to work to support innovation, creativity, improved performance and decision-making.
b) Prevent discrimination and promote equality for groups covered in the Employment Equality Acts 1998-2015 and the Equal Status Acts 2000-2018, that is, age, civil status, disability, family status, gender, race, religion, sexual orientation and membership of the Traveller Community.
c) Continually cultivate an environment that demonstrates dignity and respect for the diversity of our employees, customers, clients, suppliers, subcontractors, partners, shareholders, i.e., all internal and external stakeholders.
d) Build awareness and understanding of the benefits for people, organisations and society of promoting diversity, equality and inclusion. 
Diversity Charter Ireland is a network of signatory organisations seeking to build best practice in promoting diversity, equality and inclusion in their workplaces.
By signing Diversity Charter Ireland, organisations make public a statement of commitment, to address diversity, equality and inclusion in the workplace in a framework that is tailored to the Irish context. You can find out more about Diversity Charter Ireland here - Diversity Charter Ireland 
You can view the Diversity Charter here - Diversity Charter