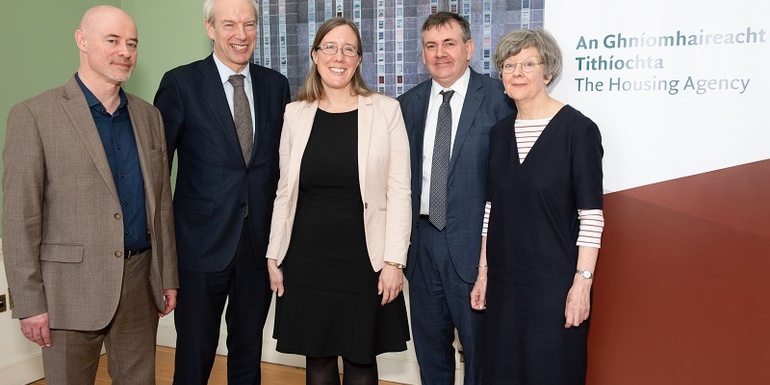 In January 2020 The Housing Agency hosted an event focussed on how best to meet the housing needs of older people. "Bringing housing, health and social care together - solutions for an ageing population: The Housing LIN experience" brought together key stakeholders in health, housing and ageing to hear about potential ways to address this issue.
Keynote speakers at the event were Clare Skidmore and Ian Copeman of the Housing Learning & Improvement Network, the "go-to" sharing network for anyone working in housing, health and social care in England, Wales and Scotland. The organisation promotes innovative housing solutions for an ageing population.
As the organisation's Strategic Lead in Influencing and Networks, Ms Skidmore leads the Housing LIN's influencing work with government and strategic partners in England, Wales and Scotland; oversees the delivery of knowledge sharing events; and enables the Housing LIN to meet the learning needs of its 25,000 members, while showcasing innovation locally.
Ian Copeman leads the Housing LIN's research and consultancy services, working with UK governments, local authorities, National Health Service organisations and housing associations to improve the planning, commissioning and delivery of housing and support options that are suited to older and disabled people.
Government policy
The event was held on foot of the February 2019 publication of the Government Policy Statement: 'Housing Options for Our Ageing Population', prepared by the Department of Housing, Planning and Local Government and the Department of Health. In welcoming delegates to the event, The Housing Agency's Director of Operations David Silke highlighted the importance of collaboration, noting that 'working together' is one of the six key principles the policy statement recognises as crucial to inform strategic thinking and practical planning in developing housing options and supports for older people.
In her address, Ms Skidmore outlined some of the successes Housing LIN has had in integrating health, housing and social care services in meeting the needs of older people across England, Scotland and Wales.
An 'honest broker'
"Housing LIN has a strong record as an 'honest broker'," she said. "People see us as a neutral place where they can explore ideas. We're a trusted partner, but we also have an extensive cross-sector membership and reach."
Ms Skidmore also highlighted a number of projects her organisation has spearheaded:
Providing intensive support and housing options to the NHS England's 'Transforming Care' programme, which aims to support people with autism and learning difficulties to live in more community-based settings.
Acting as member of the UK Coalition for Accessible Housing, an external network advocating for greater accessibility in homes for older and disabled people.
Leading in the HAPPI design principles, a set of principles developed in the UK with particular relevance to the spectrum of older persons' housing – both offering an attractive alternative to the family home, and being able to adapt over time to meet changing needs.
Local and national responsibilities
Mr Copeman outlined the policies undertaken by the governments in Scotland and Wales in designing homes and communities that are attractive and accommodating to the needs of older people. He also spoke about the research Housing LIN have carried out into what local authorities in England are doing in the provision of homes for an ageing population.
"Both governments in Wales and Scotland have a very clear statutory drive towards the integration of health, housing and social care, which is essentially about a better, more coordinated offer for their citizens," Mr Copeman said.
"In England the integration of health, housing and social care is much more driven at a local level. One of the things that's happened in England is the devolution to city regions," he added, before citing Housing LIN's work in providing a resource pack to help standardise the work of public sector agencies developing different forms of accommodation for older people in Greater Manchester, a region of around three million people. The pack highlighted examples of international best practice in the area among various socio-economic types, emphasising the diversity of Manchester residents.
Positive work in Ireland
The trip also enabled Ms Skidmore and Mr Copeman to learn about the positive work of colleagues in Ireland. Joining them on a panel to discuss the issues of housing, health and social care for older people were Alan Byrne of the Department of Housing, Planning and Local Government; Niall Redmond of the Department of Health; and Catherine McGuigan of Age Friendly Ireland and Meath County Council.
Through the work of Age Friendly Ireland, Ireland recently became the first country in the world to be fully affiliated with the World Health Organisation's Global Network of Age Friendly Cities & Communities. Another positive development in this area which was highlighted was the Centre for Excellence in Universal Design, based in Dublin and part of the National Disability Authority, which is 'dedicated to enabling the design of environments that can be accessed, understood and used regardless of a person's age, size, ability or disability'.
It is hoped that this visit signals the first stage of an ongoing, fruitful relationship between colleagues with shared values and objectives in the UK and Ireland – united in the commitment to promoting high quality housing solutions for older people.
Pictured above, left-to-right: Ian Copeman, Housing LIN; John O'Connor, Chief Executive Officer, The Housing Agency; Clare Skidmore, Housing LIN; David Silke, Director of Operations, The Housing Agency; Isoilde Dillon, Senior Architect, The Housing Agency.