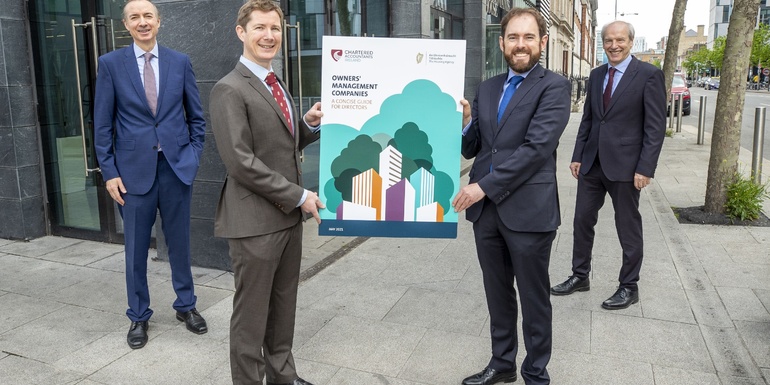 A new guide published today by The Housing Agency and Chartered Accountants Ireland identifies ten considerations for directors of the bodies that manage the shared spaces and services of multi-unit developments such as apartments and housing estates.
Read Owners' Management Companies – A Concise Guide for Directors here.
Increasing numbers of people in Ireland live in apartments and houses that are part of multi-unit developments. Between 2002 and 2016 the number of apartments in Ireland rose by 85%, and in 2019 planning permissions in Ireland for apartments exceeded those for houses for the first time. This high level of growth is expected to continue for some time to come.
Residents of multi-unit developments rely on common areas, or shared amenities and services. Under Irish law, an owners' management company (OMC) is required to legally own the common areas and be responsible for their upkeep on behalf of its members, who may be owner-occupiers or landlords.
Launched at a webinar today, Owners' Management Companies – A Concise Guide for Directors identifies good practice in ten key areas which the directors of OMCs should follow:
Directors' duties

Board effectiveness

Performance versus conformance

The company constitution and register of members

Finances, cash, and debtors

Company accounts and statutory audit

The role of the company secretary

Outsourcing

Annual general meetings

Dispute resolution

John O' Connor, Chief Executive Officer, The Housing Agency, said:
"Most OMCs are not-for-profit, or mutual trading companies, and most directors of OMCs are volunteers. However, the responsibilities and duties they have are enshrined in company law.
"Directors of OMCs are required to apply good corporate governance and sound financial management. This guide will give new and existing directors advice in complying with legal requirements, as well as achieving the objectives of their OMC. When organised and operated in a sustainable way, OMCs benefit all residents in the community."
Níall Fitzgerald, Head of Ethics and Governance at Chartered Accountants Ireland, added:
"An OMC director must act in the best interests of the company while having regard to the interests of all their stakeholders. At times it can be complex work; OMC directors are often required to deal with service providers, and professional advisors such as accountants, auditors, and solicitors. They can also interact with residents' associations and regulators or government bodies.
"Chartered Accountants Ireland is delighted to collaborate with The Housing Agency in providing guidance to OMC directors in their important role. As well as the ten considerations we outline, the guide also suggests further sources of information and advice. It emphasises the importance of seeking expert advice where complex legal, financial, and construction or property issues arise."
OMCs do not act for commercial gain, but are custodians of the physical, built environment in which people live. Given the significant proportion of time people spend in their living environment, more so during the Covid-19 pandemic, high standards in shared amenities and services are key to sustainable communities. These are more attainable with good governance and effective management of OMCs.
As well as benefitting new and existing OMC directors, this guide will be of interest to other stakeholders in managed estates, such as housing bodies and local authorities, landlords, homeowners, professionals including auditors, accountants, management agents, and others providing services to OMCs.
Read Owners' Management Companies – A Concise Guide for Directors here.