Status Update – January 2020
At the end of December 2019, a total of 7,093 residential properties have been identified by NAMA as potentially available for social housing.  Demand has been confirmed by the local authorities for 2,770 of the properties that NAMA has identified.
Local authorities have confirmed that 2,437 of the properties are considered unsuitable by reference to sustainable planning and housing policy or are located in areas with no demand.   A further 1,886 properties have been sold or privately let by the owners or receivers.
To date, a total of 2,605 residential properties have been delivered for social housing providers comprising of 2,569 completed properties with a further 36 that have been contracted where completion work is on-going.  The following diagram summarises the overall progress.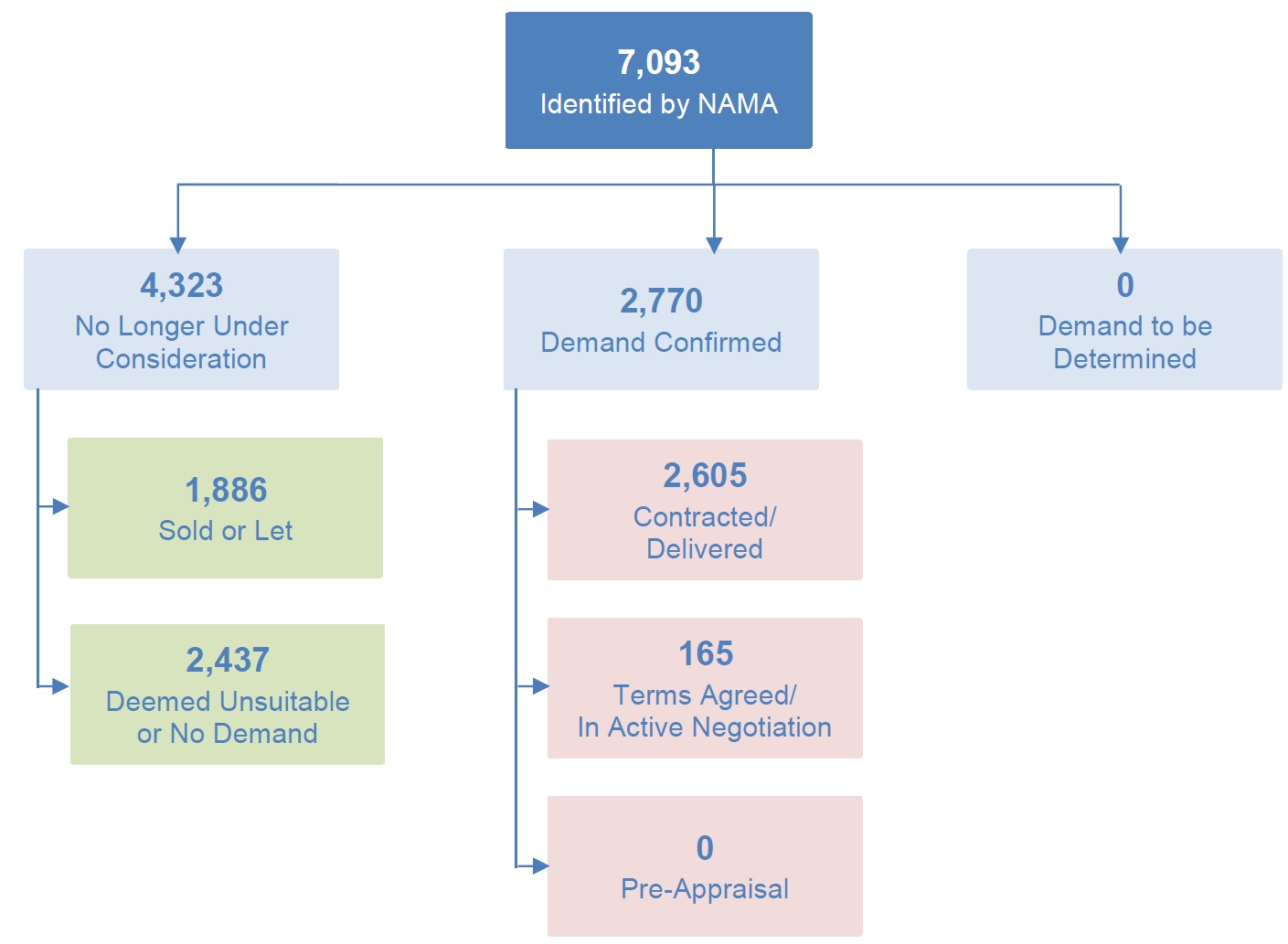 Of the 2,569 properties completed to date, 129 houses and 293 apartments were delivered across seven separate developments with mix of social and private rented homes. The properties were purchased or leased by three AHBs with assistance from the Department through the social housing current expenditure programme for 315 properties with the remaining 107 rented on the private market, thus ensuring sustainable mixed-tenure developments.  These projects in Carlow, Cork, Dublin, Galway and Laois provide a good illustration of sustainable housing policy in practice; a policy which aims to provide a balanced sustainable mix between social and private housing within a community.
Breakdown of Properties Complete/Contracted by Local Authority Area

| Local Authority | Total     | Apartments | Houses    |
| --- | --- | --- | --- |
| Carlow Co. Co. | 103 | 8 | 95 |
| Clare Co. Co. | 55 | 15 | 40 |
| Cork City Council | 138 | 61 | 77 |
| Cork Co. Co. | 354 | 164 | 190 |
| Donegal Co. Co. | 5 |  - | 5 |
| Dublin City Council | 415 | 414 | 1 |
| Dún Laoghaire-Rathdown Co. Co. | 282 | 278 | 4 |
| Fingal Co. Co. | 143 | 91 | 52 |
| Galway City | 196 | 167 | 29 |
| Galway Co. Co. | 32 |  - | 32 |
| Kerry Co. Co. | 42 | 6 | 36 |
| Kildare Co. Co. | 235 | 18 | 217 |
| Kilkenny Co. Co. | 56 | 27 | 29 |
| Laois Co. Co. | 35 |  - | 35 |
| Limerick City & County | 20 | 6 | 14 |
| Louth Co. Co. | 27 | 27 |  - |
| Meath Co. Co. | 39 | 29 | 10 |
| Monaghan Co. Co. | 62 |  - | 62 |
| Offaly Co. Co. | 30 |  - | 30 |
| Sligo Co. Co. | 4 |  - | 4 |
| South Dublin Co. Co. | 146 | 141 | 5 |
| Waterford City & County Council | 51 | 10 | 41 |
| Westmeath Co. Co. | 20 |  - | 20 |
| Wexford Co. Co. | 102 | 35 | 67 |
| Wicklow Co. Co. | 13 | 13 |  - |
| Total | 2,605 | 1,510 | 1,095 |
Breakdown by County with Local Authority or AHB per project