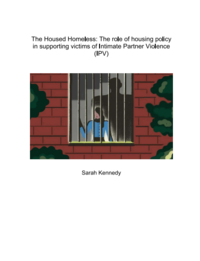 The Housed Homeless: The role of housing in supporting victims of Intimate Partner Violence (IPV)
The ache for home lives in all of us, the safe place where we can go as we are and not be questioned.
Maya Angelou
According to research conducted by the United Nations in 2018, the Home is the most dangerous place for women (United Nations Office on Drugs and Crime, 2018). ). This finding has come into sharper focus recently as restrictions to curtail Covid-19 confine many people to their homes. Speaking in April 2020, the United Nations Secretary-General António Guterres highlighted the "horrifying surge in IPV" (Guterres, 2020), which has been referred to by the United Nations as the "shadow pandemic". It has long been understood by Governments, policymakers, social workers, the Gardaí and the public, that in most cases the home is unsafe for those experiencing IPV. Despite this, IPV is rarely understood as a housing issue. e. In Ireland and internationally housing and domestic violence policy and practice are typically managed by separate agencies, with limited formalised coordination in place (Baptista, 2010; Mayock, Parker, & Sheridan, 2015). This approach to housing and homelessness has had significant implications for victims of IPV. This essay by Sarah Kennedy demonstrates the importance of a comprehensive "whole housing
approach" to the prevention of IPV and to the provision of meaningful support to victims and survivors. Drawing on Irish and international literature and research it outlines the multifaceted relationship between IPV and housing and interrogates the relationship between IPV and housing in the Irish context. It propose a theory of change for Irish housing policy which understands IPV as a housing issue and takes a victim-centred approach to addressing it.
The proposals outlined in this essay are predominantly based on the Whole Housing Approach programme introduced by the Domestic Abuse Housing Alliance (DAHA) in the UK. DAHA is a partnership of three agencies; domestic abuse charity Standing Together and Peabody and
Gentoo, two housing associations which own and manage over 100,000 homes in England.
"The Whole Housing Approach (WHA) endeavours to improve the housing options and outcomes for people experiencing domestic abuse so that they can achieve stable housing, live safely and overcome the abuse and its harmful impacts."
(Domestic Abuse Housing Alliance, 2021)