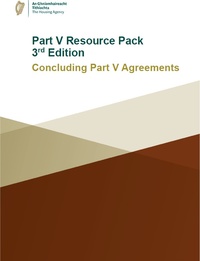 The Part V Resource Pack provides a step-by-step guide to negotiating a Part V agreement, beginning with a flowchart of the key steps in the process, which are then explained in greater detail. In addition, the Resource Pack provides some useful templates for local authority staff, a consolidated version of the Part V legislation and a copy of the 2017 Part V guidelines issued by the Minister.
This 3rd edition of the Resource Pack has been updated to incorporate the changes to Part V introduced in the Urban Regeneration and Housing Act 2015 and the Planning and Development (Amendment) (No. 3) Regulations 2015.
This document will be of use to both local authority staff and developers.
Read Part V Resource Pack 3rd Edition here.