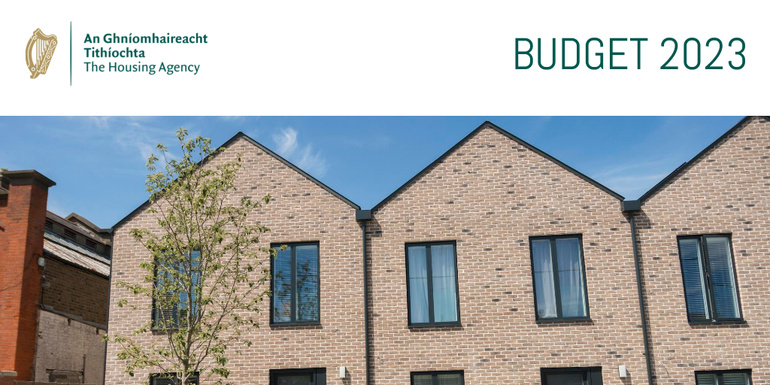 PRESS RELEASE
Wednesday, 28th September 2022
The Housing Agency welcomes Budget measures which will "increase housing delivery, improve affordability and support the most vulnerable"
The Housing Agency, the government body working to support the delivery of housing, has today (28.09.2022) welcomed the housing measures announced as part of yesterday's Budget 2023. According to The Housing Agency, these measures will "improve affordability, increase the supply of homes and provide support to the most vulnerable in our society."
Commenting on yesterday's announcement, Bob Jordan, CEO of The Housing Agency, said: "The central role of The Housing Agency is to provide expertise and solutions to help deliver sustainable communities with high quality and affordable homes to meet the nation's housing needs. Yesterday's announcements are another important step in delivering on the commitments set out in Housing for All.
"The Housing Agency plays a significant role in the provision of affordable housing. It has managed the Cost Rental Equity Loan (CREL) scheme since its introduction in early 2021, and we welcome the commitment by the Government to deliver a further 1,850 cost rental homes using CREL and other delivery mechanisms in 2023. Similarly, we welcome the continued investment in providing affordable homes to purchase."
"The new vacant property tax is designed to encourage better use of the existing housing stock by bringing vacant homes back into occupation. The Housing Agency welcomes this measure. We will continue our role in addressing vacancy through our central advisory service on compulsory purchase orders and providing advice to local authorities on the Town Centre First programme, which will combat vacancy and dereliction in towns and villages across Ireland.
Protecting the vulnerable in society
The Housing Agency includes the National Office for Housing First, which is a government programme that works to support people experiencing long-term homelessness and those with complex needs. Commenting on yesterday's 10 per cent increase in funding for homeless services, Rob Lowth, the National Director for Housing First said:
"It is crucial the most vulnerable in Irish society are protected and provided with appropriate and sustainable homes and supports. Yesterday's increase shows a firm commitment by the Government to reduce homelessness and eradicate rough sleeping."
"Importantly, the budget also provides €219 million to fund programmes and supports for disabled people, older people, and Travellers. Earlier this year the Government published the new National Housing Strategy for Disabled People 2022 – 2027 which was prepared with the assistance of The Housing Agency. The implementation plan for this strategy is expected shortly."
Minister O'Brien also announced that he had brought a memo to Government on the recently published report of the Working Group to Examine Defects in Housing. An inter-departmental and agency group is being established to bring forward specific proposals to Government by the end of the year. The Agency looks forward to engagement in relation to the steps announced by the Minister.
Mr. Jordan concluded, "The Housing Agency welcomes Budget 2023, which continues to build on the success of Housing for All. We look forward to working with the Department of Housing, Local Government and Heritage, local authorities, approved housing bodies and all our stakeholders to provide affordable, high-quality housing and sustainable communities for all."
ENDS