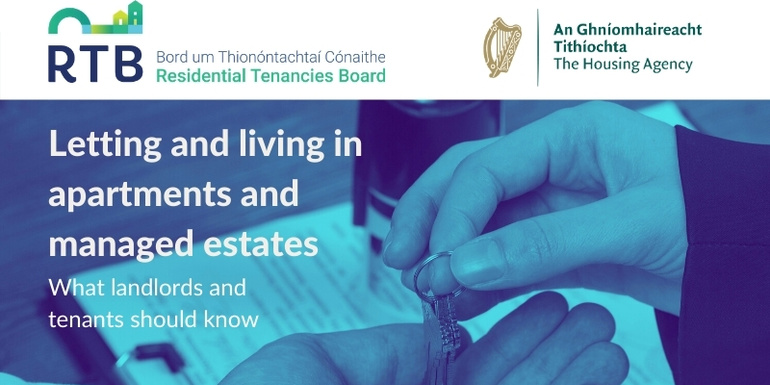 The Housing Agency and the Residential Tenancies Board (RTB) will jointly host a lunchtime webinar on the rights and responsibilities of landlords and tenants in managed residential estates, such as apartment developments.
David Rouse, advisor with The Housing Agency, will discuss legal relationships in managed estates, and the relevance of the Multi-Unit Developments Act 2011 to landlords and tenants.
Emer Morrissey, Assistant Director, Head of Dispute Resolution at the RTB, will address rights and responsibilities of landlords and tenants and dispute resolution in the context of managed estates.
The hour-long session will take place at 12pm on Tuesday 3 November 2020.
Registration is required to participate in this free webinar. To register please click above or visit https://zoom.us/j/93563175057?pwd=Y1NVYUFVQnZGSW5RZm0yY0gra2l1dz09. Places are limited to 1,000 participants, on a first-come first-served basis.
Webinar Programme
Introduction & background
Presentations:

David Rouse, The Housing Agency
Emer Morrissey, Residential Tenancies Board
Q&A
Please note that this session will be recorded for future use.