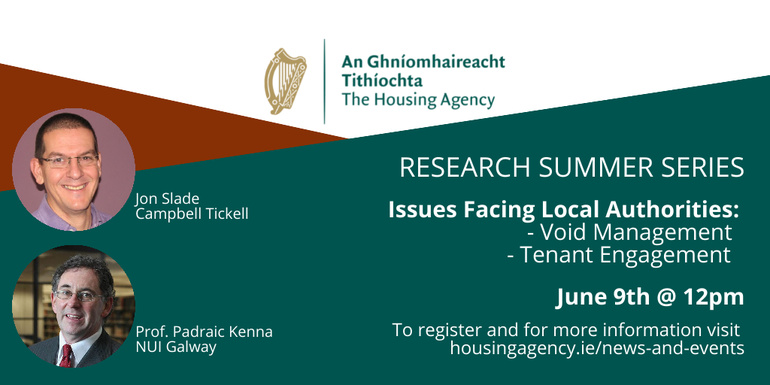 The Housing Agency's Research Summer Seminar Series showcases new and interesting research on housing in Ireland conducted, or supported by, The Housing Agency. The series brings together a variety of academics, practitioners, and public servants. The series will be of interest to housing practitioners, academics, legislators, policy makers, academics, and all those working in the housing, local government, justice and equality sectors.
Session 2 focused on issues facing Local Authorities, and featured presentations on void management and tenant engagement. The first presentation was delivered by Jon Slade, Director at Campbell Tickell, and was entitled Empty Homes Performance - Can we do better. The second presentation was by Prof. Padraic Kenna of NUI Galway, and his presentation was entitled Tenant participation or tenant collaboration? Which way for Irish LA tenants.
You can re-watch this webinar on our youtube channel.
Jon Slade is a Director for Campbell Tickell, one of the UK's leading consultancies working on social housing issues. Jon leads on asset and housing management for CT and has been working on issues pertinent to empty homes performance for over 20 years.
Prof. Padraic Kenna lectures on housing law and housing rights, property and land law at NUI Galway, and has published some six books and over 50 journal articles on these topics. Previously, he worked in housing as a practitioner at both local authority and housing association level in the UK and Ireland. Padraic is the Director of the Centre for Housing Law, Rights and Policy, engaging in housing law, rights and policy research at national and European level, publishing reports on key housing issues.
The first session of the Research Summer Series was on the topic of renting in Ireland and took place on the 9th of June. It focused on the private rented sector and featured insights from Dr. Richard Waldron, of Queen's University Belfast, who discussed housing precarity and "generation rent" and Anne Murphy, Research Analyst at the Housing Agency, who looked at The Housing Agency's national study of Irish housing experiences, focusing on the difference between renters and homeowners. You can watch the event back on our YouTube channel.