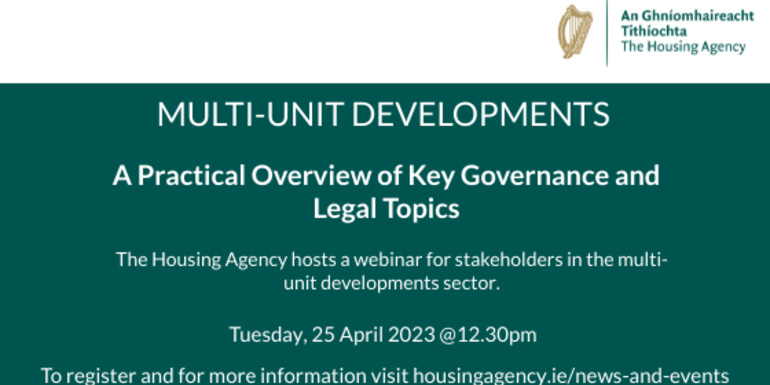 The Housing Agency presents a lunchtime webinar intended to provide an overview of key governance and legal topics for multi-unit developments, and owners' management companies.
This event will be of interest to a wide audience- owners' management companies, Approved Housing Bodies, residents, property professionals, and other stakeholders in the multi-unit developments sector.
Speakers
Henry Murdoch, retired barrister and chartered engineer, and author of Apartment Living in Ireland, A Practical Handbook for Owners, Owners' Management Companies, and Managing Agents.
David McCourt, Director of Asset Management & Property Services, Co-operative Housing Ireland
The 60-minute webinar will take place at 12.30pm on Tuesday 25 April 2023.
Registration is free of charge via this Zoom link-
https://us06web.zoom.us/webinar/register/WN_XQ6UNfKRTBO86YgySUngPw
Questions may be emailed to MUD@housingagency.ie
The session will be recorded for future use.
Places are limited to 1,000 attendees on a first-come first-served basis.
By registering for this webinar you consent for the purposes of event management to the processing by The Housing Agency of your personal data (name and email address).
Disclaimer
Information provided during the webinar is general in nature. It should not be considered to amount to legal advice, and no reliance should be placed on it. The Housing Agency and webinar presenters cannot be held responsible for actions or failure to act on foot of the information provided. There may be other issues or circumstances that would influence the comments provided. Professional legal advice might be necessary on individual circumstances.