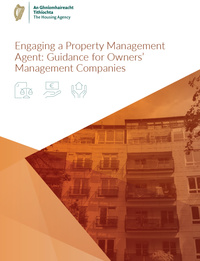 The Housing Agency has developed a guidance document, Engaging a Property Management Agent: Guidance for Owners' Management Companies.
The guidance consists of topics and questions that may be considered by OMC directors when selecting an agent for a multi-unit development, such as an apartment block or housing estate having shared services and spaces.
Attention is drawn to matters including agent licensing and experience, contracts, communications, and property and financial management services.
The content is subject to provisions of law applicable to licensed property services providers, OMCs, and multi-unit developments, including but not limited to the Property Services (Regulation) Act 2011, the Multi-Unit Developments Act 2011, and the Companies Act 2014. In the event of any conflict between the guidance and legislation, the legislation prevails.
This guide is a live document and may be subject to change from time to time.