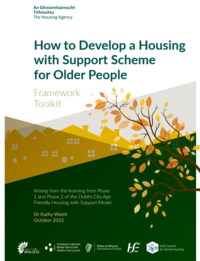 This toolkit has been developed as a mechanism of capturing and sharing the learning arising from the Dublin City Age Friendly Housing with Support project. The overall aim is to provide a guide, particularly for social housing providers (to include local authorities and approved housing bodies (AHB) interested in developing Housing with Support projects for older people. It may also be useful to private developers interested in developing this type of housing.
It incorporates learnings from phase one and phase two of the Housing with Supports project.
To read the full report please visit the How to Develop a Housing with Support Scheme for Older People: Framework Toolkit page.
To read the related report please visit the Evaluation of Phase 2 of the Dublin City Age Friendly 'Housing with Support Model' in Inchicore page.