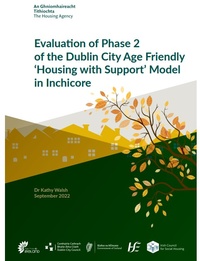 This report evaluates the second phase of the 'Housing with Support' development in Inchicore. Housing with Support is a specialised housing option, primarily for older people, that falls between living independently in the community and living in a nursing home or other form of long-term care. This evaluation examines the successes and barriers in this phase, the reasons why they happened, and the solutions involved. It provides a useful tool in understanding the complex nature of this project and how the partnership process between stakeholders worked.
To read the full report please visit the Evaluation of Phase 2 of the Dublin City Age Friendly 'Housing with Support Model' in Inchicore page.
To read the related report please visit the How to Develop a Housing with Support Scheme for Older People: Framework Toolkit page.