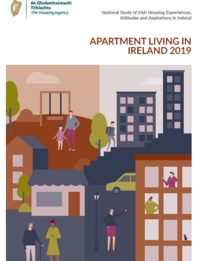 Housing Agency National Study of Irish Housing Experiences, Attitudes and Aspirations in Ireland - Apartment Living in Ireland 2019. This study set out to find out how satisfied people living in apartments were with their homes.
The information in this research study was collected by: face-to-face Interviews with more than 500 people living in apartments, two focus groups with families with young children living in apartments and two focus groups with older renters, a literature review and a summary of recent policy changes, legislation and guidelines that impact on the development of apartment living.
The report is available here.