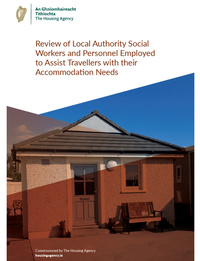 This report presents a review of the role of social workers and other personnel employed by local authorities specifically to assist Travellers with their accommodation needs.
It was commissioned by The Housing Agency on behalf of the Minister of State at the Department of Housing, Local Government and Heritage.
This publication was written by Michelle Norris, Angela Palmer, Joanne Kelleher and Jim Campbell, School of Social Policy, Social Work and Social Justice, University College Dublin.
Since the mid-1960s, local authorities have employed social workers to support Travellers in meeting their accommodation needs. Since then, the nature and scale of the demands on local authority housing departments have changed and local authorities have taken on new housing responsibilities.
This report found continuing levels of accommodation need among this community and makes a number of recommendations to improve the effectiveness of this service in the context of the wider local authority housing service. This includes the implementation of the recommendations of the Traveller Accommodation Expert Review 2019.
The views expressed in this report are those of the authors and do not necessarily represent those of The Housing Agency, the Minister of State or the Department of Housing, Local Government and Heritage.