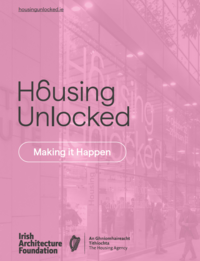 In October 2022, the Irish Architectural Foundation and The Housing Agency launched the Housing Unlocked exhibition. Running until mid-February 2023, this exhibition showcased eight innovative ideas to create more and better housing for our communities.
The exhibition garnered significant public and media interest and enthusiasm. Over24,000 people visited the exhibition, and 75 public engagement events were held.
The innovation shown at the Housing Unlocked exhibition showcases the talent within Ireland's housing sector. This innovation can help Ireland meet its housing delivery targets as outlined in the government's Housing For All programme. However, some changes to the Irish housing sector are required in order to introduce these solutions. They include new planning exemption classes; changes to planning guidelines; policy changes; engagement with stakeholders such as local authorities, central government and Transport Infrastructure Ireland; changes to building regulations; launching pilot schemes of projects; and fiscal support.

Housing Unlocked started with a single aim - to give people working in housing, primarily architects, an opportunity to showcase their expertise, by providing ideas to improve Ireland's housing sector. The competition began with an Open Call which was launched in February 2022. Proposals were sought that provided practical ideas and creative thinking in the areas of vacancy, regeneration, compact growth, construction technologies and social inclusion. A jury of high-profile international judges selected eight winning submissions from the fifty-plus received. Each winning team received €7,500 in funding to develop their proposals into an exhibition piece.
This document outlines the eight projects and summarises the actions required to turn these ideas into a reality. We hope that this information can be useful to those working in the areas where such actions might be achievable. We welcome the prospect of continuing discussions with these parties and hope to be able to progress some or all of these wonderful ideas exhibited.
To read the full document please visit this link: Housing Unlocked - Making it Happen