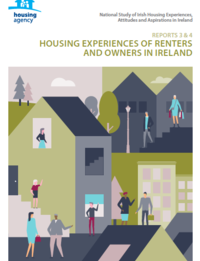 This report is based on findings from the Housing Agency National Study of Irish Housing Experiences, Attitudes and Aspirations in Ireland, and focuses on the housing experiences of renters and owners in Ireland.
The focus of this study is on housing tenure, and examines levels of satisfaction within homes and neighbourhoods. Tenure is analysed in more detail in the rented sector, with an analysis and comparison of social and private rented housing, while in the homeownership sector there is analysis and comparison of those who own their home with or without a mortgage.
The report is available here.
A working paper discussing the findings is available here.