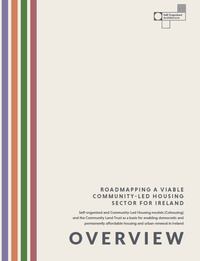 Community-Led Housing is a ground-up approach which enables people to pool their collective resources to create homes that are accessible and affordable to all. It understands housing not as just the 'provision of houses,' but the empowerment of diverse, sustainable communities.
SOA Research has launched its new publication series, Roadmapping a Viable Community-Led Housing Sector for Ireland, which comprises a series of handbooks on Community-Led Housing, offering guidance in the areas of Policy, Finance, Land and Getting your Group Ready.
Supported by The Housing Agency, The Land Development Agency, Ó Cualann Cohousing Alliance and the Goethe lnstitut Irland, SOA Research initiated and coordinated a 12-month research project to roadmap a Community-Led Housing infrastructure for Ireland, which culminates in this new publication series. Project stakeholders included eight Irish CLH groups as well as public and private sector housing practitioners in Ireland and across Europe.
Read the publication series below: