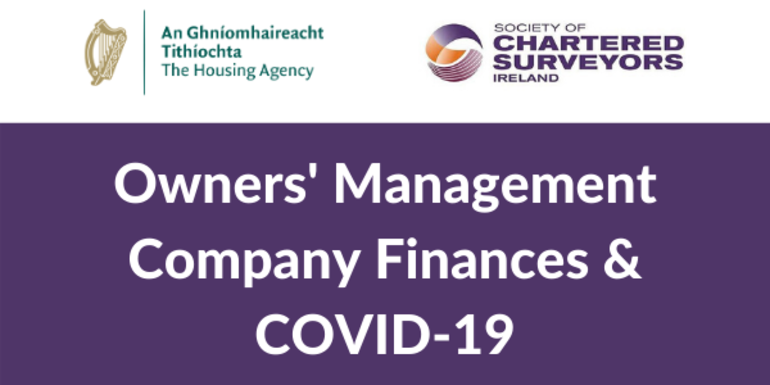 The Housing Agency and the Society of Chartered Surveyors Ireland will host a webinar addressing the financial challenges for owners' management companies arising from the COVID-19 emergency.
Delivered by expert panellists, the session will be of interest to stakeholders in the apartment and multi-unit developments sector, including management agents and directors of Owners' Management Companies (OMCs).
The 40-minute webinar will take place at 12:30pm on Thursday 23 April 2020.
Registration is required to participate in this free webinar. To register please visit https://zoom.us/webinar/register/WN_hUVxS-cqRXKDyDOqL1gKBw. Once registered, a password will be provided which you will need to access the webinar.
Webinar Programme
Introduction & background
Panellists' views on key finance issues, including:

Income and expenditure review;
Cash flows/liquidity;
Sinking funds;
Annual service charge recovery;
Communications with OMC members.

Panel discussion
Anonymous online Q&A
Places are limited to 500 participants, on a first-come, first-served basis.
Please note that this webinar will be recorded for future use.